Göttingen and Kassel are cities that are only 50 km apart and could form a nice region – if they wouldn't have been part of different kingdoms in the past and now different federal states (Lower Saxony and Hesse). I firmly believe that they will be connected more in the future and first tendencies towards this can already be seen.
In fact, the cities are so close that you don't need a car or the train to visit them – you can do a roundtrip by bike. Okay, you need to be well trained but also an e-bike can help here (if you find a socket for your charger in both federal states). It is a tour of 120 to 140 km that has the beautiful small town of Hann. Münden at its centre and includes the nice rivers Fulda, Weser, Werra and Leine (plus some smaller streams).
The section between Kassel and Hann. Münden is fully flat and pretty easy as you will find the biking route R1 along river Fulda. But from there to Göttingen you'll need to cross the mountains somewhere and you need to know which passage is the best. But don't worry – I've tested them all for you. In the end, you just should follow railway tracks – either the abandoned one (via Scheden and Dransfeld) or the current track for regional trains (via Witzenhausen, Eichenberg, Friedland).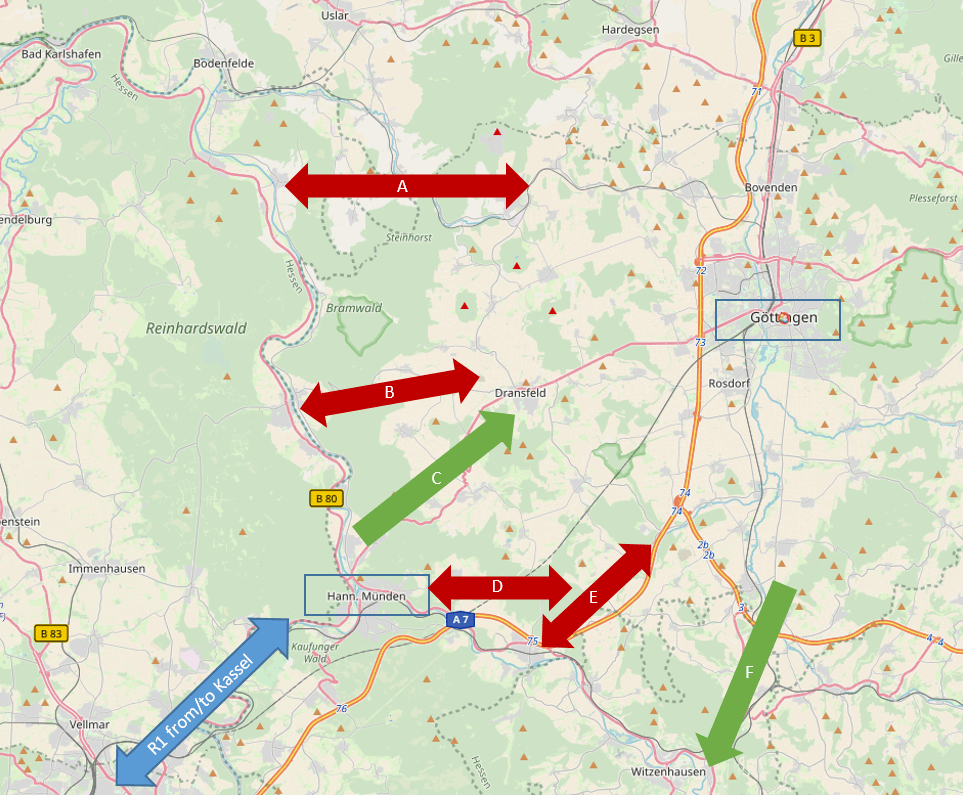 Weser valley
#3
Oedelsheim (A)
A route for gourmands of good views and masochists: the mountain between Oedelsheim and Adelebsen is a real pain. Maybe you should do it once coming from Göttingen because the rush down to Oedelsheim is amazing.



Advice:

take the ferry boat in Oedelsheim and ride along the Weser on the western side of the river – the path is much better.


Surplus:

the Weser valley and the chance to visit the castle in Adelebsen.


Downsides:

much more km and a horrible mountain.
#2
Niemetal (B)
A cute little valley with a nice steady inclination if you're coming from Kassel. Definitely a good option!



Surplus:

the Weser valley, the Bursfelde abbey, the restaurants at the ferry boat in Hemeln.


Downsides:

some additional km and bad track condition on the way from Hemeln to Bursfelde.
#1
Schedetal (C)
The best option when going from Hann. Münden to Göttingen! A slow ascent through the valley of the Schede and then up to Dransfeld. From there a great rush down to Rosdorf.



Surplus:

feel like a railway locomotive on an abandoned railway track and visit the Klusteich.


Downsides:

not a good option when coming from Göttingen (if you want to do this: follow the abandoned railway, the route starts in Göttingen at the river Leine close to the Leinepark and the Stadtfriedhof).
Best routes from Weser valley to Göttingen and vice versa
Werra valley
#3
Lippoldshausen (D)
Scenic views from Lippoldshausen, Wiershausen and a gorgeous rush down to Hann. Münden through Hermannshagen (you would never do this up from Hann. Münden).



Surplus:

pure adrenaline when speeding down from the mountain, nice forest between Atzenhausen and Lippoldshausen.


Downsides:

more inclination than necessary, not an option when coming from Hann. Münden.
#2
Hedemünden-Atzenhausen (E)
Wonderful passage down from Atzenhausen to Hedemünden. Great views and acceptable inclination; not recommended when going to Göttingen.



Surplus:

the Werra valley, nice views when rushing down to Hedemünden.


Downsides:

some more km, in parallel to motorway A7.
#1
Neu-Eichenberg
–Witzenhausen (F)
The best option when going from Göttingen to Hann. Münden! Long-stretched ascent and fast rush down to Witzenhausen. Horrible when going up from Witzenhausen…



Surplus:

the Werra valley, buying cherries at Witzenhausen, having Frikandel Spezial on the way.


Downsides:

much more km.
Best routes from Werra valley to Göttingen and vice versa
Security advice: never try to get from Witzenhausen to Nieste and Kassel via the Kaufunger Wald. It is an amazing forest with beautiful nature but also crazy inclination. Don't try this at home. 😉
My favourite Gran Fondo
After many attempts and lots of trial and error I can recommend this route: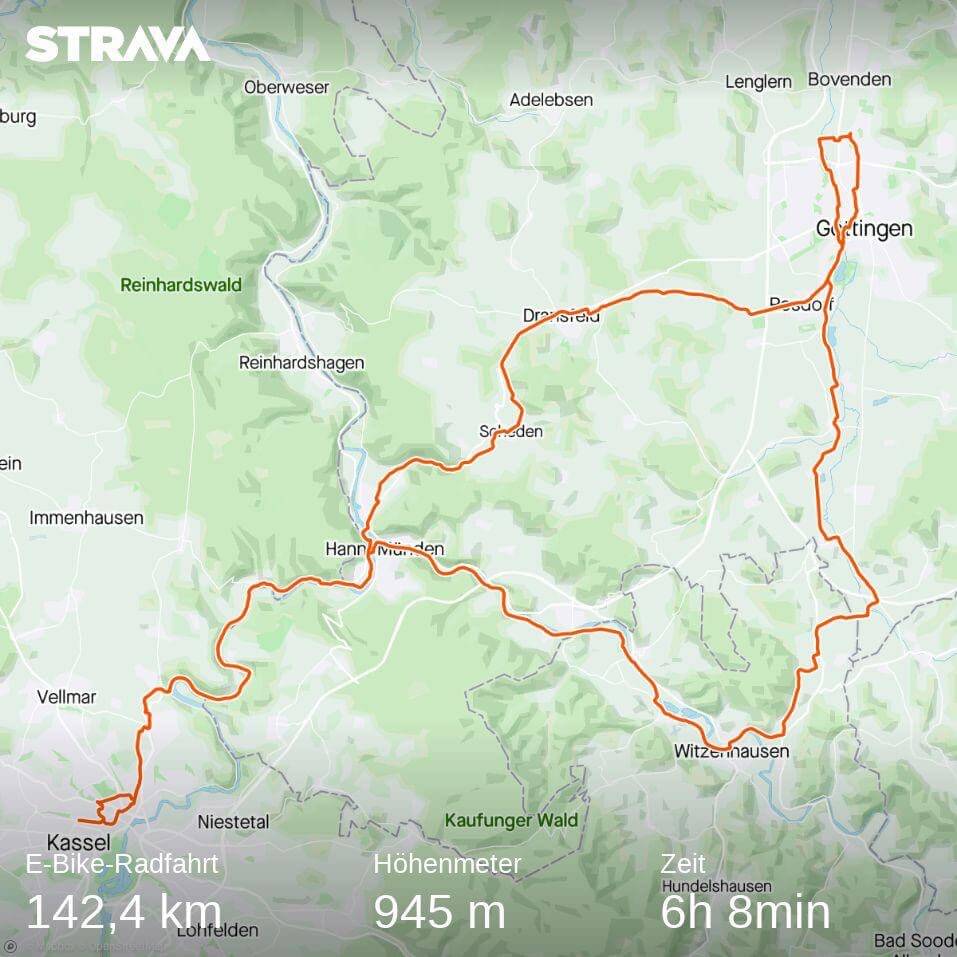 Kassel – Fuldatal (Simmershausen, Wahnhausen, Wilhelmshausen) – Hann. Münden – Scheden – Dransfeld – Settmarshausen – Rosdorf – Göttingen.
Göttingen – Rosdorf – Niedernjesa – Obernjesa – Klein Schneen – Friedland – Reckershausen – Niedergandern – Hebenshausen – Neu-Eichenberg – Witzenhausen – Blickershausen – Oberode – Hann. Münden – Fuldatal (Wilhelmshausen, Wahnhausen, Simmershausen) – Kassel.
As you can see the routes are different in both directions. This is the case because the mountain passages via Scheden/Dransfeld and via Neu-Eichenberg/Witzenhausen are totally different depending on from which direction you'll approach them.
Three cities with lots to see
All three cities are worth a visit and in each of them you should spend more than a day. If you need ideas what to do on arrival, here are some hints:
Kassel / Hann. Münden / Göttingen
Germany
Loading map...