The city of Kassel, Germany consists of 23 different city quarters. Half of them where independent cities that were suburbanized between the end of the 19th and the mid of the 20th century (for example Wehlheiden in 1899, Kirchditmold in 1906, Harleshausen in 1936). In some of them you can also find special settlements with own names like Mulang and Marbachshöhe (Bad Wilhelmshöhe) or the exclave Kragenhof (Wolfsanger-Hasenhecke).
23 city quarters and a nature reserve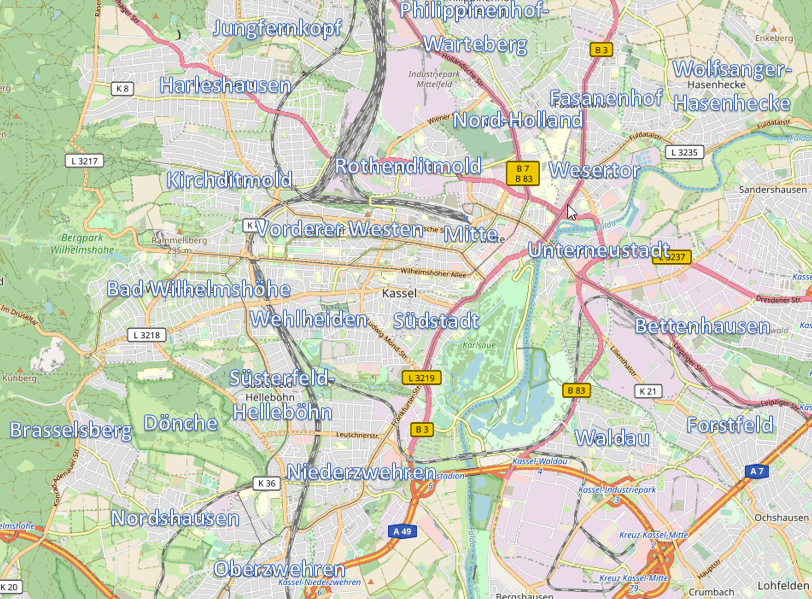 City quarters of Kassel and their characteristics
It is a high number of city quarters and each of them has their special characteristics: Mitte contains the city center, the pedestrian zone and the shopping area. The Vorderer Westen is a vivid area with many bars and cultural activities. For many this is the prefered area to live in. Wehlheiden is a residential zone with many apartment buildings but also family homes. A strange thing is that there seems to be virtually no public transport in this area. Kassel was resdesigned after World War II as a city for cars. Bad Wilhelmshöhe (the 'Bad' signalising a spa area) is a wonderful city quarter full of family homes. It includes also the Bergpark Wilhelmshöhe, the UNESCO world heritage site.
Brasselsberg is a city quarter underneath the Brasselsberg mountain where you can have a nice walk. The quarter is a bit far away but full of nice houses. Kirchditmold has preserved its character as a village on a hill. It is nice to get there by tramway and walk down from the Hessenschanze. Wesertor and Nord-Holland are massively migrant-shaped quarters. The latter also contains the university and therefore quite a lot of students live there. The Dönche is a special city quarter with an inhabitant count of zero: it is completely a nature reserve.
What can be found around Kassel?
Kassel is surrounded by many smaller cities. Those in the north and east are the places that people typically prefer if they want to buy a house these days (without paying more than a fortune). They are most often connected well by public transport. In the south there is mostly industry and in the west forests can be found. The neighbouring cities are:
Ahnatal
Vellmar
Fuldatal
Staufenberg (belonging to Lower Saxony)
Niestetal
Kaufungen
Lohfelden
Fuldabrück
Baunatal
Schauenburg
Habichtswald