There are not many songs about Göttingen, Germany. But one chanson of French singer Barbara is still known today and it is a song about friendship connecting Germans and the French – what people in Göttingen don't know: it is also very much known in France. Barbara was born in 1930 and as a Jewish child she had to hide in different places during the war. She was hiding to not be found by the Germans; that makes her later developed love for a German city so special.
Bien sûr, ce n'est pas la Seine
Ce n'est pas le bois de Vincennes
Mais c'est bien joli tout de même
À Göttingen, à Göttingen

Barbara – Göttingen
One day the director of the Junges Theater saw a concert of her and invited her to Göttingen. But she didn't want to come into the country of the perpetrators. Finally, she accepted and arrived in 1964. Unfortunately, the piano needed for her concert didn't arrive on time and everything was about to fail. Then an old lady offered her piano and ten students carried it through the night. The concert became a success, Barbara received long applause. And she stayed for another week in the city, discovered it and finally wrote the chanson Göttingen.
Ô faites que jamais ne revienne
Le temps du sang et de la haine
Car il y a des gens que j'aime
À Göttingen, à Göttingen

Barbara – Göttingen
It is a song about international understanding and reconciliation expressing the deep desire to never ever have war again. Barbara came back a second time and performed it in the sold-out city hall. She died in 1997 – a street is named after her and a commemorative plaque on the former theatre building reminds of her history. Her memoirs have been published by a publishing house à Göttingen.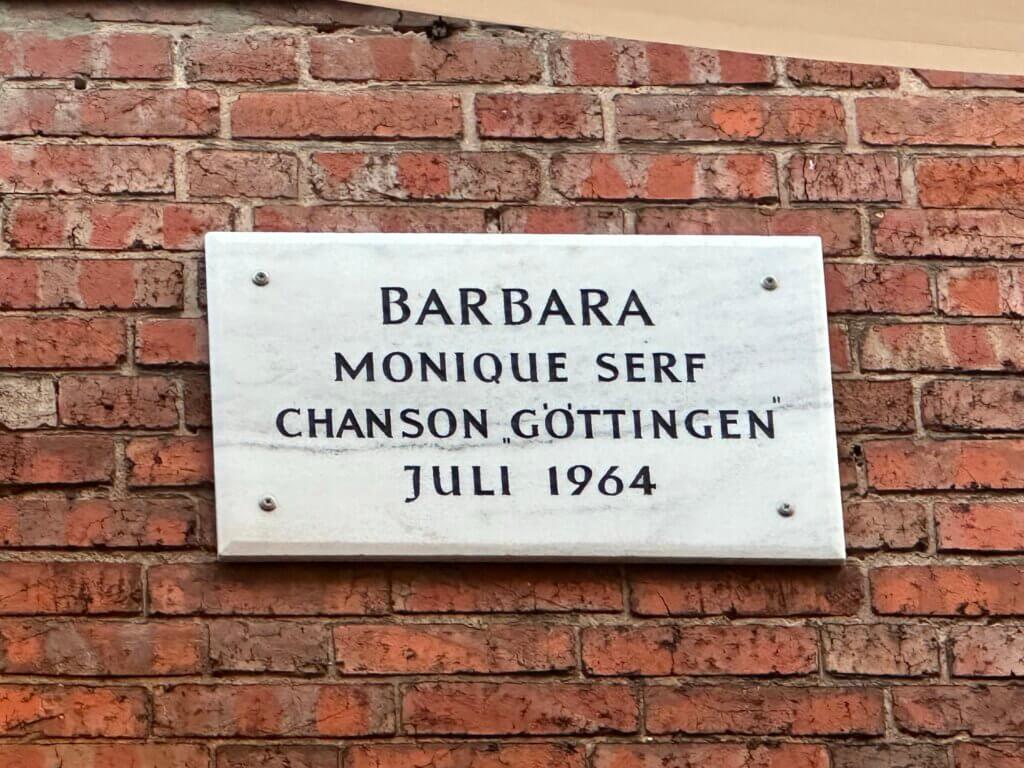 Barbara – Göttingen
Göttingen
Germany