The Eder is a 176 km long river leading from Westphalia (near the Rothaargebirge) to the river Fulda with the confluence being located at Edermünde south of Kassel, Germany. It is mostly known for the Edersee – Germanys second-largest artificial lake used for sports, recreation, flood protection, drinking water provisioning and energy production. From Kassel, you can visit it easily by bike on a 70 km long tour – mostly flat if you ignore the final ascent to the dam. A trip very worth to be taken!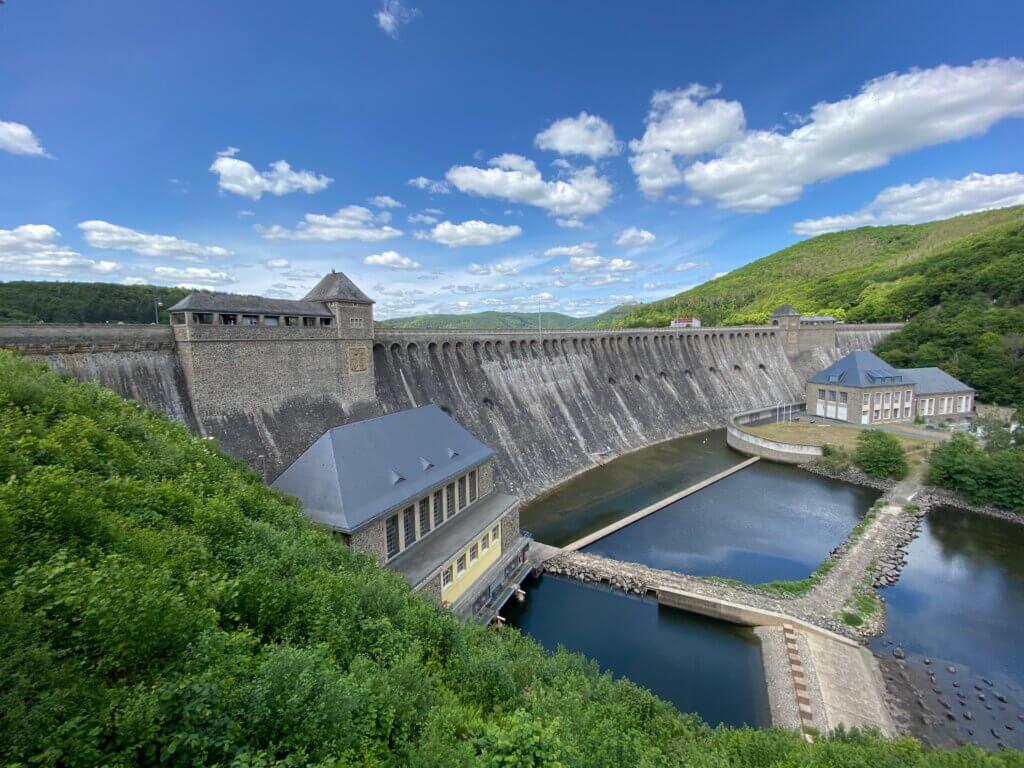 From Kassel you need to follow bicycle path R1 southward to Guntershausen (Baunatal). Behind the railway bridge, you can find the end of the river Eder – the Edermündung into the Fulda. After passing a roundabout and a small railway station the path climbs up through a forest to Haldorf and a steep road brings you down very fast to Wolfershausen. Via the fields of Brunslar and Böddiger (with very nice views on the river) you will reach Felsberg where you can see the Felsburg castle and get some drinks (even on Sundays at a gas station).
The next good stop is at Altenburg where the river Schwalm floats into the river Eder; the region is called the Schwalm-Eder-Kreis. Following the path, you will get to Wabern and Fritzlar, a wonderful ancient town with many towers. Ungedanken, Mandern, Wega, Anraff, Bergheim – there are many small villages to pass by and on the way, you can enjoy the different zones of the river. Then you'll arrive at the Affolderner See, a beautiful artificial lake and shortly behind that a steep ascent to the Edersee dam starts. Climbing that hill near Hemfurth is rewarded afterwards with good touristic infrastructure.
Directly at the dam you will find restaurants, eateries, icecream and souvenir shops. There is a nice water playground in the shape of the Edersee and not to far away you can discover a nice zoo and a treetop walk. If you also want to cycle around the entire lake: this would be additional 50 km. Cycling to the Edersee is nice – but some sections are not suitable for racing bikes; therefore you will mostly meet mountain bikers and trekking bike users on your way. But that is even a good thing as you're not overtaken that often. 😉
Eder
Grifte, Edermünde – Hemfurth-Edersee, Edertal
Germany
Loading map...