The mountain piglet after which the eatery 'Zum glücklichen Bergschweinchen' in Kassel, Germany, is named is happy – as only vegan food is served there. Most important dish is vegan kebap; normal kebap is named Döner in Germany (after the Turkish word for 'rotating') and therefore the vegan variation is called Vöner. But they also serve delicious burgers (called 'Börger') and homemade fries.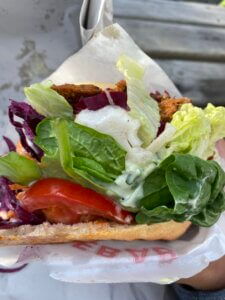 Everything fits together here: if you order to take away you get your food wrapped in paper, not plastics. It is a simple eatery and a political statement – and for sure the customers are also special. The restaurant is located in a former gas station not far away from the central campus of the university and the river Fulda. It is a little bit outside the city centre but easy to reach. You can eat inside the restaurant or have a seat outside (if you don't want to take your food home). A place for healthy nutrition one should come to more often!
Zum glücklichen Bergschweinchen
Weserstraße 2
34125 Kassel
Germany

https://www.facebook.com/Bergschweinchen/
Loading map...