Confusingly, Kassel has two railway stations: Kassel Hauptbahnhof (main station) and Kassel-Wilhelmshöhe. While Kassel main station is located at the heart of the city but is only served by regional trains, the long-distance train station Kassel-Wilhelmshöhe is at the spa-district Wilhelmshöhe in the west of Kassel.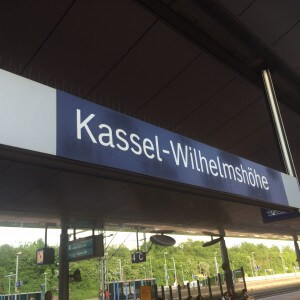 When the new tracks for the Inter City Express (ICE) were positioned, it was decided to build a new railway station. This is understandable because Kassel Hauptbahnhof is a dead-end station and a direct passing of trains was kind of impossible, but a subterranean connection to Kassel Hauptbahnhof has been discussed.
The building and the tracks of Kassel-Wilhelmshöhe look quite impressive, but in fact the railway station is a big misconstruction: Whether you are at the tracks or pass the long steep ramps to the area, where busses and tramways leave: the station is just too lofty and open. In evenings and winter times you are always looking for a warm and wind-free space. That is why the station got it's nickname: The Palace of the Winds.
And believe me: I'm passing there twice a day. The restauration is only medium quality, you can find worlds smallest fastfood vendor here and a waiting booth which is not nearly close to the size of what a railway station of this importance needs. In the evenings, when the service counter closes, you can be nearly alone. But there are also good things, like a supermarket close-by (at the end of the station) and a suitable Turkish eatery. If you are unfortunately stranded here: Right across the road you can find a bar (the Depesche). It might be your safe harbour.
Loading map...