It's a bizarre landscape. A vast area without bushes and trees, strangely formed rocks on one of the surrounding mountains, many people walking around and climbing these rocks and gliders starting on an airfield in between. That is what you can all find close to Zierenberg, Germany (15 kilometers northwest of Kassel). The strangely shaped rocks are called Helfensteine and are visible because of the erosion of the surrounding area over a very long time.
Helfensteine, Zierenberg

Helfensteine, Zierenberg

Helfensteine, Zierenberg

Helfensteine, Zierenberg

Helfensteine, Zierenberg
Next to these you can find the Hoher Dörnberg, a 578 meters high mountain with good views. The airfield close to the Helfensteine is one of the oldest in Germany. Especially on a weekend you'll see gliders starting here and circulating over the area. The airfield is clearly marked and you should not enter it. If you walk towards Zierenberg you can find another special rock: the Burg Blumenstein or Wichtelkirche. In the 12th or 13th century it was a small castle located on the basalt rock.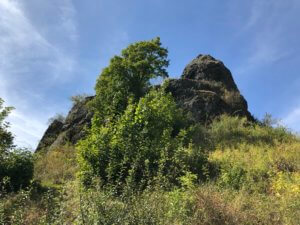 The best way to get to the Helfensteine in my opinion is to get by RegioTram 4 (from the city center) to the stop Calden-Fürstenwald. From there you can steadily walk up the hill, pass a forest and you'll reach the Helfensteine (2.5 kilometers, but the inclination is tough). Later you can walk towards Zierenberg, pass under the viaduct and find the railway station behind an industrial zone. From there Regionalbahn 4 brings you to Kassel-Wilhelmshöhe.
Helfensteine / Burg Blumenstein / Wichtelkirche / Dörnberg
Zierenberg
Germany
Loading map...