It is the town's landmark of Kassel, Germany and visible from nearly everywhere in the city: the octagon with the Herkules monument on top. It is one of the central buildings of the Bergpark Wilhelmshöhe, a UNESCO World Heritage Site since 2013. The building is located on the back of the 526 meters high Karlsberg mountain in the Habichtswald.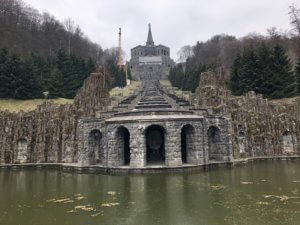 The statue made of copper shows the Greek demigod Heracles (Latin: 'Hercules'). Octagon and pyramid (on top of each) are both around 30 meters high, the statue itself is 8.25 meters in height. They have been built between 1701 and 1717 after the plans of Italian architect Giovanni Francesco Guerniero. The Herkules was made by Johann Jacob Anthoni from Augsburg, Germany. He is standing there, thinking about his actions leaning on a mace. You can visit the octagon with a special ticket sold at the visitors center and ticket vending machines.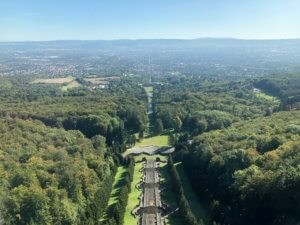 Underneath the Herkules there are cascades that are used regularly for water games: water is directed from lakes behind the Herkules onto the 250 meter long cascades. The water flows down creating fountains and also sounds just by water pressure. This first step – the baroque water games – end at the Neptune grotto underneath the cascades. From there the water continues to the romantic water games in the Bergpark underneath (Steinhöfer Wasserfall, Teufelsbrücke, Aquädukt and the 52 meters high fountain in front of the castle).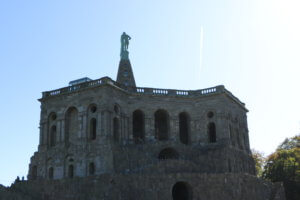 There are different ways to get to the Herkules. You can get by tramway 1 to the visitor center at the lower end of the Bergpark and walk all the way up. During the water games also a bus goes through the park. The more relaxed way is to go by tramway 4 to the stop Druseltal. There you'll have to switch to bus 22 that takes you to the visitors center next to the Herkules. Bus 22 takes a route that was until 1966 covered by a special railway – the Herkulesbahn. You can also park your car close to one of the two visitor centers – near the Herkules and at the lower end of the Bergpark.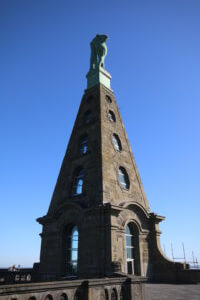 Geek side note: Already in 1696 first works for the Herkules monument were done – at another mountain close to the current location. As far as known this location was given up as it would have been too hard to bring water there for the water games. The ruin is known as the Kleiner Herkules and can still be visited today.
Herkules & Oktogon
Schlosspark 28
34131 Kassel
Germany
Loading map...