Bad Karlshafen, Germany, is the most northern city of the federal state of Hesse. The 'Bad' in its name shows that it is a spa city and people get there to cure their illnesses. It was founded by Charles I, landgrave of Hesse-Kassel in 1699 as a city for the Huguenots who fled from France because they were persecuted due to their Protestant Christian belief. You can find a museum for these people next to the harbour. By that time it was called Sieburg – it received the name Carlshaven in 1717 to honour its creator.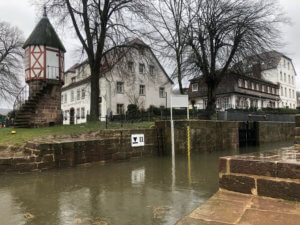 Bad Karlshafen was meant to be a trade city and Charles wanted to create a channel to be able to transport goods on ships to Kassel, the most important city in northern Hesse. An idea that wasn't realized but instead a railway track to Kassel existed between 1848 and 1986.
Creating an artificial channel from Bad Karlshafen to Kassel sounds like a strange idea – because ships could go up the Weser to Hann. Münden and switch there to river Fulda that leads to Kassel. To understand this you need to know that Hann. Münden is located in Lower Saxony – formerly the kingdom of Hannover. You had to pay a price and in the city, the Stapelrecht existed; everyone transporting goods on the river had to unload and offer them for a while. It was therefore a good idea to not pass the city. Instead of having a channel to Kassel, the goods were simply unloaded in Bad Karlshafen and transported from there with other means of transport.
The harbour of Bad Karlshafen is not along the river but next to it and separated by a watergate. In 1920 it was disconnected from the river and not used anymore. But in 2018 it was decided to restore it – mostly for touristic reasons. I guess too much money went into that project; the harbour will probably not be used by too many ships. Today one of the reasons to get here is a spa and sauna, the Weser-Therme. There is also a large area for caravaning and you can hike very good in the area around the city; to the Weser-Skywalk, the Hugenottenturm, the Krukenburg and the Erlenhof. Just to name some examples.
Hafen
Bad Karlshafen
Germany
Loading map...