On the Waltersberg mountain near Bad Karlshafen, Germany, you can find the ruins of an ancient fortress: the Krukenburg. It is special as at its centre a large church is included which was built in 1107 and follows the design of the Church of the Holy Sepulchre. The fortification was built to protect the village underneath called Helmarshausen, today a city quarter of Bad Karlshafen. In addition to the church and the different ruins of the fortification, there is also a tower which you can climb on.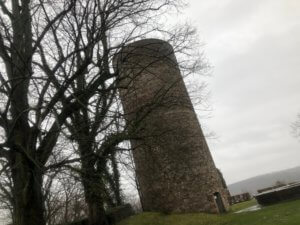 Climbing up is possible between 10 am and 6 pm and between the begin of April and the end of October. There is also a restroom and a coffee bar not far away. If you get there in winter or outside of the opening hours you can at least visit the castle grounds. You can get there on foot from Bad Karlshafen (there are many signs guiding you, at lasts about 35 minutes) or by bus: the nearest stop of bus 180 is Helmarshausen-Krankenhaus. Directly at the bus stop a short but very intensive (25 % inclination) walk brings you to the castle.
If you want to reach this place from Kassel you need to go by RegioTram 1 (from Hauptbahnhof) to Hofgeismar-Hümme and walk to the bus stop Essestraße (7 minutes to walk). There bus 180 picks you up. If you haven't had enough of castles: the Krukenburg forms a trio in northern Hesse together with the Trendelburg and the Sababurg.
Krukenburg
Helmarshausen
Bad Karlshafen
Germany
Loading map...