The Fridericianum is a museum building at the Friedrichsplatz of Kassel, Germany and one of the most important buildings of the city. It is the central building of every documenta art exhibition and in between also used for changing exhibitions. It is named after Frederick II, landgrave of Hesse-Kassel and was finished in 1179. By that time it was already used as a museum for the collection of the landgrave and his library.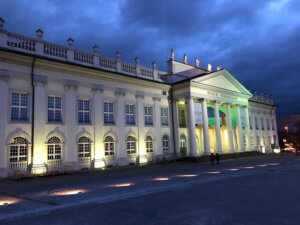 During the time of the Kingdom of Westphalia it was used as a parliament building (1810-1813). Next to it you can find the Zwehrenturm, the only original city gate of Kassel that remained. From there green laser light is sent out every Saturday evening as part of the Laserscape artwork. During the documenta in 2017 smoke was generated in the Zwehrenturm as an artwork of artist Daniel Knorr – which caused many calls to the local firefighters.
In front of the Fridericianum you can see the first and the last of the 7000 oaks that Joseph Beuys planted (documenta 7, 1982) and the tiny surface of the Vertikaler Erdkilometer created during documenta 6 (1977).
Fridericianum
Friedrichsplatz 18
34117 Kassel
Germany
Loading map...