I'm always a bit hesitant when it comes to local museums in small towns. They're often seen as a must-have independent from the question whether there is something to exhibit or not. The Städtisches Museum of Hann. Münden, Germany, is a place I would nevertheless recommend if you're interested in local history. It feels like a wild mix of topics and some sections look very old-fashioned but it offers enough content for an informative visit.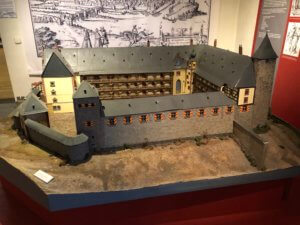 One of the first section shows works of sculptor Gustav Eberlein whose works can today also be seen in Roma, Berlin and Santiago de Chile. One of the newest and most interesting sections is about a former Roman fortified camp in the city quarter Hedemünden. The different items found there are on display. Further sections of the exhibition show beautiful ceramics produced locally, different items found within the city centre over the centuries and there is also a small section about shipping (which is important because of the three rivers). It is a part that could be extended in my opinion. Also, I was missing something about the attack of Tilly against the city, about Jewish life, about coal mining and about the Hannoversche Südbahn. There are more stories to tell.
You can find the Städtisches Museum within the Welfenschloß next to the city centre. After passing the large parking area in front of it (which prevents more people from getting to this place, I suspect) you need to take the middle door and the elevator up to the third floor. The museum is also located on three floors and unfortunately, you can only switch the floors within the museum using staircases. As an entrance fee, you have to pay 2.50 Euros per adult.
Städtisches Museum
Welfenschloß
Schloßplatz 5
34346 Hann. Münden
Germany
Loading map...