It is hard to imagine nowadays but once there was a 6 kilometers long ropeway high above the largest city quarter of Hann. Münden, Germany: the Kattenbühl. The ropeway began near the Kleiner Steinberg, went nearly straight through the forest and ended close to the railway station of Hann. Münden at Schulzenrode.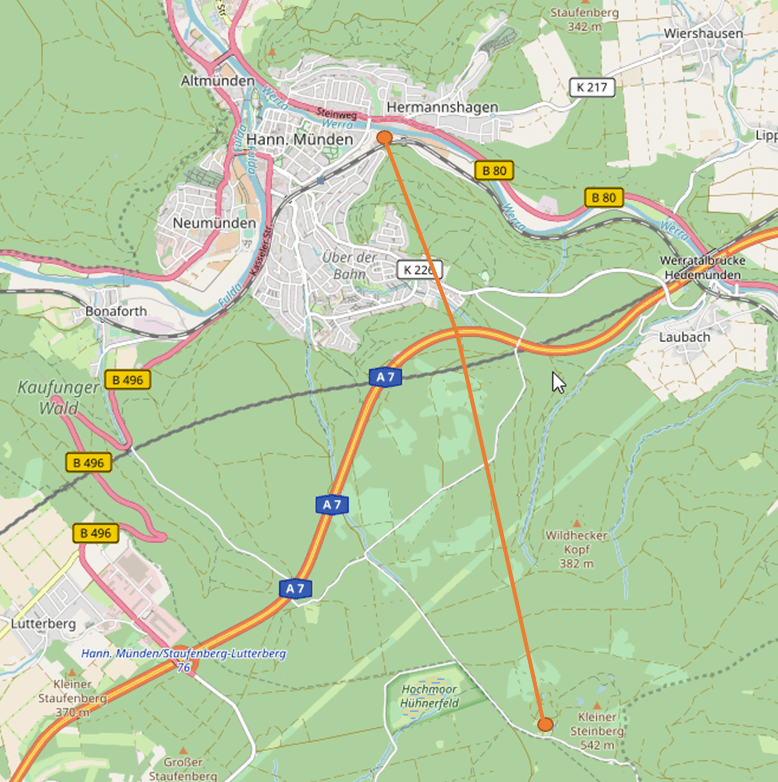 The reason for that is that at the Kleiner Steinberg they found brown coal – and for centuries and until 1961 they gathered it there and brought it to the railway station to transport it. At first the coal was brought down the hill on the Kohlenstraße (coal street) which still exists today. Between 1893 and 1894 the ropeway was created as an alternative: it could transport 30 tons of coal every hour and was used until 1931. You can still find some traces of it in the forest.
Because of the creation of the Bundesautobahn A7 between 1937 and 1941 some things changed and the Kohlenstraße was partially moved. Therefore combining old and new map material isn't easy. The map on this page shows the most likely route I could determine of the Steinberg-Drahtseilbahn.
Steinberg-Drahtseilbahn
Hann. Münden, Germany
Loading map...