When you reach Hann. Münden, Germany by train you might recognize that the train station is located at the Adam zu Trott von Solz-Platz. Or you might not. But if you do you might wonder about this strange name (if you're not an expert in German history) or you might wonder which connection this member of the resistance against the Nazi regime might have with this small city.
Friedrich Adam von Trott zu Solz was born in 1909 at Potsdam, Germany. His family first moved to Berlin and later to Kassel where he went to the Wilhelmsgymnasium (Kunoldstraße 51, Kassel) and the Friedrichsgymnasium (Humboldtstraße 5, Kassel).
Meanwhile his father had retired and the family had moved to Imshausen, Germany leaving him back alone at
Kassel. As he had some trouble his father sent him to Hann. Münden in 1922 where he attended the Städtisches Gymnasium (today: Schule am Botanischen Garten) until he achieved his Abitur. A commemorative plaque next to the entrance of his former school reminds on his time at this most-southern part of Lower Saxony. Later Adam von Trott zu Solz studied at München, Göttingen, Berlin and Oxford.
While working at the Federal Foreign Office (Auswärtiges Amt) of Germany Adam von Trott zu Solz created connections to different resistance fighters and became part of the Kreisauer Kreis under Helmuth James von Moltke and Peter Graf York von Wartenburg. They developed concepts for a post-Nazi Germany and he tried to force a revolution. He went to foreign states to arrange support and in 1944 he met Willy Brandt at Stockholm, Sweden to inform him about the planned assassination attempt on Adolf Hitler.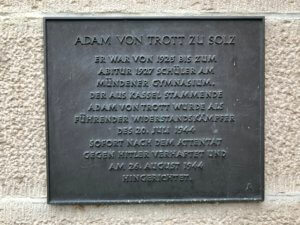 On the day before July 20th, 1944 he met Claus Graf Schenk von Stauffenberg and encouraged him to carry out his plan. After the failed attempt he was arrested, tortured and brought to the Volksgerichtshof which was part of the terror regime. Nazi judge Roland Freisler imposed the death penalty on him and Adam von Trott zu Solz was executed on August 26th, 1944 at Berlin. His wife was arrested and their two children (at the age of 2.5 years and 9 months) were deported to a children's home at Bad Sachsa. Fortunately all three could return home only weeks later.
Adam-von-Trott-zu-Solz-Gedenktafel
Schule am Botanischen Garten (formerly: Städtisches Gymnasium)
Böttcherstraße 7
34346 Hann. Münden
Germany

Loading map...