Flying to Sarajevo was a quite spontanous idea: I still had a week of paid leave to take and in the last year I was continously travelling eastwards throughout former Yugoslavia, having seen Zagreb and Ljubljana. Serbia and Bosnia-Herzegovina were the logical consequence.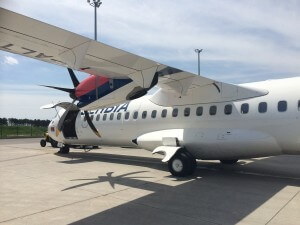 I arrived in Sarajevo (pronounced as Saray-jevo, coming from the Turkish word "Saray", meaning "palace") with a turboprop machine of Air Serbia. A unique experience because within these small machines you really feel the plane drifting through the air. I was expected by someone bringing me to my hotel (Hotel Festival) who fled to Wiesbaden, Germany during the war and was speaking German very well. So the first hints and clues about the city were gathered very fast.
Loading map...

I wasn't prepared well and therefore started to explore the city on foot without thinking too much about its history. I started at the old Osman quarter Baščaršija and immediatly fell in love with the city. It were 33 degrees in May, the sun was shining and the people were happy and friendly. Not one single time during my stay I had the feeling of being unsafe. I visited the Gazi-Husrev-Beg-mosque, tried some really good Ćevapčići (which is a nacional specialty) and walked through the pedestrian zone, Ferhadiji, westbound.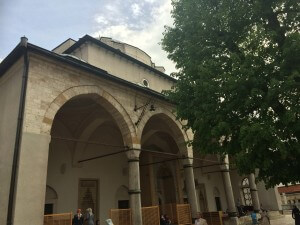 After having seen the eternal flame and the memorial to the children of Sarajevo, I reached a scenery already very well known to me (even if it was my first visit to the city): The hotel Holiday Inn, the parlament and the UNIS towers. When I was a child, the Yugoslavia war was the first act of war I actively recognized. TV stations around the world continously broadcasted pictures of the city during the siege of Sarajevo. And one of these repeatedly use pictures were these four buildings.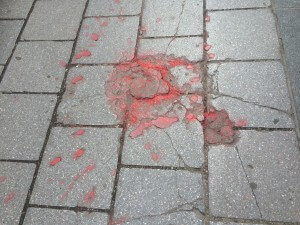 After tank fire the parliament skyscraper was burning – and this image was something I couldn't forget until today. So I was really happy to see this place in reality and to recognize, that everything has been built up again after the war. From this moment on I started to see the relicts of this war. 20 years later there were still some ruins, a lot of houses out of the city center (which is well repaired) that had a high number of bullet holes and some explosion marks of shells can still be found.
The next day I started to visit every museum of the city to learn more about the story of the city – and even about the Srebrenica massacre that was already a big topic to me in Zagreb. I used the tramway to get to the recreation area Ilidža, 12 km away from Sarajevo. There I took a taxi to the impressive tunnel museum (tunel spasa) in Butmir.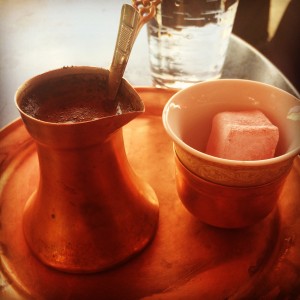 The trip to Sarajevo was a short one – but it was full of nice places, lots of history and the chance to see what became of Sarajevo after the war. It was maybe the best spontanous idea to travel, I ever had. And it was surely not my last visit to the town; even if it is only for a nice cup of Bosnian coffee. 😉