Travelling on a river by canoe is great fun. But it needs a lot of preparation: you need a boat, suitable equipment, a good point to start and most of all: someone who picks you up at your destination. Canoeing on the Diemel river is in contrast easy and well organized. You'll get a canoe, a waterproof barrel, life jackets, paddles, and the phone number of someone to pick you up later.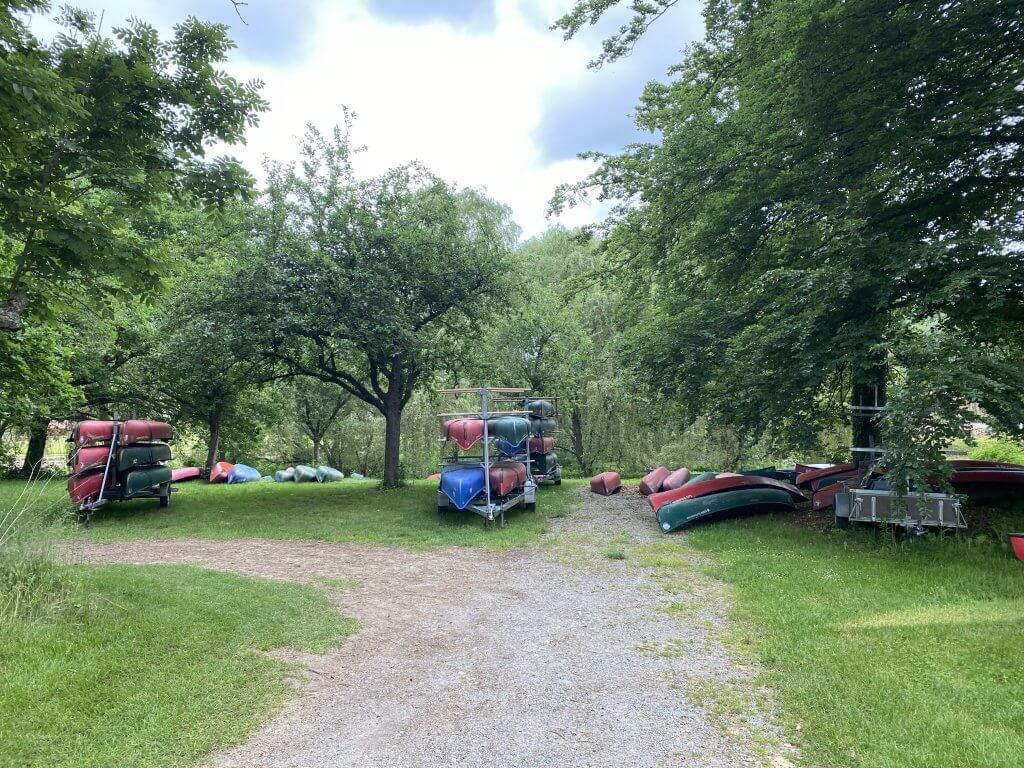 The Diemel is a 110 kilometres long river that starts in the Rothaar mountains and has its confluence with the river Weser at Bad Karlshafen. On the Diemel you can do different tours, the beginner's tour starts at Trendelburg underneath the castle Trendelburg. There you can park your car and directly hop onto the water. The river has a medium speed in this area and is very diverse – it leads through a nature protection zone. On both sides of the river, trees are standing close to the water and are creating beautiful scenery.
Canoeing there is pretty easy but sometimes there are small rapids that contribute to the fun. Every now and then you'll have to surround a natural barrier and pass some swans. After a while, you will reach the dam near Wülmersen where you can exit on the right-hand side. This is a good option to leave your canoe close to the river (everyone does this) and visit the Wasserschloss Wülmersen – a nice place including the coffee bar Mehlschwalbe, an ostrich farm and a lot of cows.
After relaxing there you can carry your boat to the other side of the dam and continue towards Helmarshausen, a part of Bad Karlshafen. When you see the castle Krukenburg at the horizon it's time to look out for the next stop at the left-hand side, in front of the next dam. After 2.5 hours of canoeing, you can ask for your transfer back. I was doing this tour with the help of Kanu Schumacher and it was easy, hassle-free and lots of fun.
Kanu Schumacher
Domäne 2e
Trendelburg
Germany
https://www.kanu-schumacher.de
Loading map...