Getting around at Երևան, Armenia, by public transport is cheap (~100 drams per ride, that is 0.20 Euros) but not that easy. The system is a combination of buses, trolleybuses, shared taxis and a metro system. I dislike taking buses in places like this because it is hard to find out where which bus is going and where to exit – especially because of the beautiful but for me unreadable Armenian alphabet. And on the other hand, using taxis is very cheap for a foreigner in this country and ordering one by the gg smartphone app (which was installed when I received my YerevanCard) is so easy.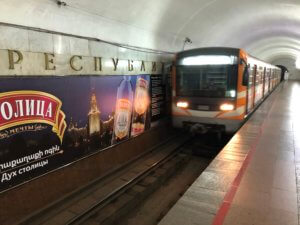 But what you should definitely do is a ride with the subway. It was opened in 1981 and has only one line leading from the south through the city centre to the North ending at Barekamutjun. The stations have the style used at the Soviet Union and are just beautiful – the only problem is that directions are given using the Armenian and the Russian alphabet. I had to guess the right direction or ask the staff at the station to find the right train. Trains run every five (peak hours) to 15 minutes, the system is 12 kilometres long, uses ten stations and the Russian track width of 1524 mm.
From Barekamutyun you can walk to Zizernakaberd (but it is a long walk down the hill!), Marshal Baghramyan and Yeritasardakan are located north of the city centre and are good access points for the Cascade complex and the opera. Zoravar Andranik is your best guess in the south if you want to get to Luna Park or the church of St. Gregory the illuminator.
Երևան, Հայաստան
Yerevan, Armenia
Loading map...