After visiting Tallinn, Estonia it was time to continue my trip to Rīga, Latvia and there are not too many options for that as the railway system is not as good as in other European countries. As often as in eastern Europe long-distance busses replace trains and there is a very good infrastructure for them. You can easily book this trip online with different platforms and operators. And you can choose different quality classes of transit.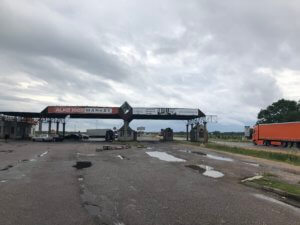 Long-distance busses start at at the bussijaam – the bus station a little bit afar from the city center but very good reachable by bus or tramway (#2 for example goes from the train station there). The bus station has shops, ticket vendors, a waiting area and free wifi.
I opted for a Eurolines bus with VIP area that included single seats, 220 volts socket at the seat and surprisingly good wifi – even better than at my hotel. I didn't have to pay extra for my luggage. I was a little bit surprised when reaching the border between Estonia and Latvia as the bus driver stopped and there are no border controls anymore as both countries are part of the European Union and have signed the Schengen agreement. The former border control building is now a shop which the bus operators often use for a stop.
Tallinn / Rīga
Estonia / Latvia
Loading map...