The city of Hann. Münden, Germany was once an important trading city and the richness gained in these times is still visible through the wonderful buildings in the city center. This situation roots back to the year 1247 CE when the city received the so called Mündener Stapelrecht from duke Otto I.
Hann. Münden (by that time called simply Münden) is located at the three rivers Werra, Fulda and Weser. Because of the Stapelrecht all ships passing the city had to unload their goods and offer them three days long to the citizens. All ships – except those that paid a fee to directly pass and except those belonging to citizens of Münden.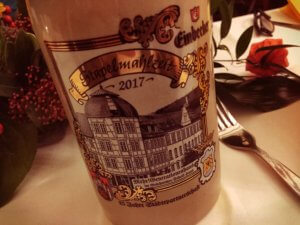 Otto I gave this right to Münden because they accepted his reign after their former patron landgrave Heinrich Raspe IV of Thuringia had died. It was meant as an economic support and it obviously worked well. In the 16th century some conflicts occurred with other cities, in the 17th century Bad Karlshafen was created as an alternative port close-by but only in 1823 the Stapelrecht was ended.
Since 1983 the city remembers the Stapelrecht with a feast – the Stapelmahlzeit. Politicians, economic leaders and the heads of local associations met at the townhall. In earlier days an exclusive meeting it is today open to everyone who is willing to pay. I visited the 34th Stapelmahlzeit and now I know what it is all about: drinking beer.
The event is always sponsored by a brewery – this time it was the Einbecker Brauhaus. Included were three types of beer, mineral water and orange juice. Additionally you could buy some wine and spirits – but don't you dare to ask for a coke! As reservations are not possible half an hour before the start everybody arrives and searches for a table.
The opening is done by the mayor whose speech consisted mainly in naming everyone in the room. And then – tadaaa – the beer barrel is opened and everyone received a beer mug with heavy dark beer especially designed for this evening. It is a collectors item showing that you survived this Stapelmahlzeit.
With the beer in front the 30 minutes speech about 500 years of Protestant reformation was hard to follow. Afterwards the team of the Ratsbrauhaus served pork roulade with Sauerkraut and potatoe mash. Afterwards some music and much more beer followed.
The official part of the evening ends with everybody singing the traditional Stapelmahlzeit drinking song to the tune of the German folk song "Hoch auf dem gelben Wagen":
"Im schönen Rathaussale
sitzen gemeinsam wir
fröhlich beim Stapelmahle
köstlich schäumet das Bier.

Refrain: Lasset es laut uns verkünden,
was uns verzaubert hat:
Das ist und das bleibt unser Münden,
unsere Heimatstadt.

Stadt zwischen den zwei Flüssen,
wo, wie ihr täglich seht,
Fulda und Werra sich küssen,
und so die Weser entsteht. (…)

Jeder ist eingeladen
durch uns're Stadt zu geh'n;
herrliche Fachwerkfassaden
sind überall hier zu seh'n. (…)

Unsere Stadt, sie soll leben,
soll lang noch Heimat sein,
Laßt uns're Humpen heben;
Bürger stimmt alle mit ein. (…)

Laßt uns, der Heimat zu Ehren,
weil man hier leben kann,
nun uns're Humpen leeren;
Freunde drum stoßen wir an. (…)"
– Rudolf Drewniok
An interesting tradition fitting well to the city – but obviously more suitable for the older generation. It is now continued every second year.
Historisches Rathaus
Hann. Münden
Germany
Loading map...