The Ratsbrauhaus in Hann. Münden, Germany is a restaurant located under the old town hall of the city. It is a nice place which offers also enough space for groups of different sizes. You can enjoy a nice buffet with various kinds of meat, vegetables and fish – but they also have a menu you can always choose from. They offer the traditional German meals you'll find in breweries: meat loafs, burgers, steaks.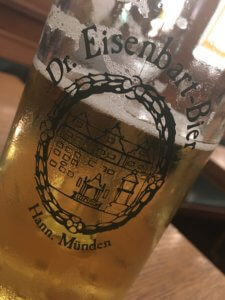 Since the year 1550 beer was brewed at this place and the current owner revived this tradition in 2003. Now you can get the locally brewed Dr. Eisenbart beer here, named after the well-known miracle healer omnipresent in the city. And even if it doesn't heal your illness it might at least cure your thirst.
Ratsbrauhaus Hann. Münden
Markt 3
34346 Hann. Münden
Germany
Loading map...