When I was young I never had the wish to go to the United States. I grew up with presidents like George Bush sr. and jr. at the Oval Office. And even Bill Clinton didn't make it better for me, having all those military operations of the U.S. and the numerous CIA interventions in South American in mind. But after Barack Obama came into the White House, I thought I should change my mind.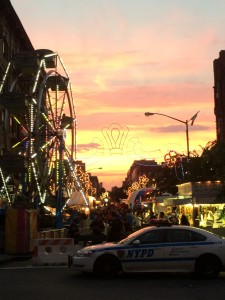 I decided to have my 33rd birthday in New York and to be there on Independence Day. I selected the Hudson Hotel close to Columbus Circle and Central Park for the stay – mainly because of the wonderful roof terrace that should prove useful in the hot summer days. The first days in New York I used to visit all those major sights you have to see, like the Empire State Building, Statue of Liberty, Ellis Island, Flatiron Building, Brooklyn Bridge and all those awesome museums.
And then I realized that I really would have enough time, slowed down a bit and started to live at New York. I went to the beach, watched the soccer world championship in the East Village, started jogging in Central Park, queued up for a Cronut, watched a WNBA basketball match at Madison Square Garden, went to Coney Island and made a picnic on Governors Island. It was a superb and sunny time.
But there was one thing that left a very strange feeling: I felt that I had already seen New York, even if I had never been there. New York is the cultural center of the States, it inspired a lot of artists and it is depicted in many movies and TV series. And in fact, I had seen most sights numerous times in my life. But still it was worth the trip.
New York
United States of America
Loading map...