During my stay in New York the quarter and semi finals of the FIFA World Cup 2014 in Brazil where held. That is why I was looking for a bar showing the games of the German soccer team ("Die Mannschaft", as it is called in the States). Easily I found the "Zum Schneider", a Bavarian beergarden and restaurant in the East Village of New York.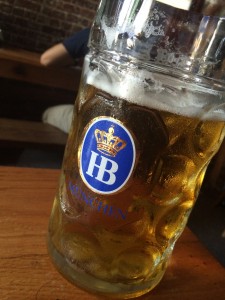 I came here on the 4th of July to see the match France vs. Germany, but I was pretty late. I had to watch the game in a Caribbean bar close by. Naturally the whole bar was supporting France and I had to drink French beer during the 1:0 victory for Germany. Quite a nice idea, to watch the first game at the opponents home port.
For the semifinal Brazil vs. Germany I returned much earlier to the East Village, got a place at "Zum Schneider" and saw an astonishing 7:1 win against the home team. When I later went to Brazil, I learned that the Brazilians simply accepted that the German team was much better – they most often told me that they were lucky that Germany won against Argentina at Maracanã; an Argentinian world cup win on sacred land in Brazil would have been another Maracanaço.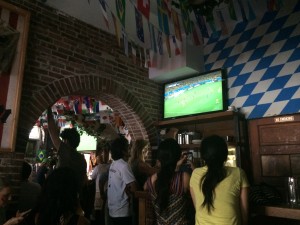 The bar and restaurant itself is good and serves authentic German food. That's why I normally wouldn't visit those places on vacations – but for soccer I can make an exception. You can get to "Zum Schneider" by metro (because you might drink some beer): take the L to 1 Av, then walk down to Avenue C/E14th Street and turn right into Avenue C. It is still six blocks to walk, but worth it.
Zum Schneider
107 Ave C @ East 7th Street
New York City, NY 10009
United States
http://www.zumschneider.com
Loading map...