The Estádio Jornalista Mário Filho, better known as Estádio do Maracanã (named after a bird living in this region), is the most important soccer stadium in Rio de Janeiro. It was where Germany won the world cup in 2014, but it was also the place for one of the worst events in Brazilian soccer history: Brazil lost against Uruguay in the final of the world cup of 1950. Brazilians refer to this game as the Maracanaço.
Maracanã is situated in the poor Zona Norte, not far away from the sambodromo. You can easily reach it by Metro, having its own station. In front of the entrance there is a statue of Brazils hero: Pelé; and from the stands you can see Cristo Redentor on Corcovado hill – what a view! The stadium has no home club. When one of the clubs of Rio de Janeiro needs a stadium for a bigger event, they rent Maracanã. 75.000 visitors fit into this place.
The stadium can be visited also when there is no game. You can get a ticket at the entrance and after the visitor group has formed at the main hall (exhibiting soccer reliques) you are guided to the V.I.P. area, to the seats and down to the changing rooms. Visiting an empty soccer stadium is typically boring, but the staff of Maracanã made this visit great.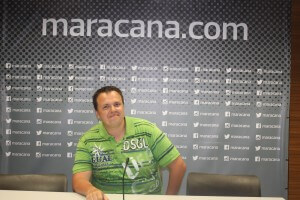 After sitting on the stands our guide told us, that we were now predicting to be players. He directed us to the mixed zone and brought us to the changing rooms where we had some minutes to relax. Then we continued to a warm up room with artificial turf and there they started to play the chants and shouts of the Brazilian fans. A referee then led us out through the tunnel onto the field. Goose bumps at this high temperature…
After sitting on the bench, taking some pictures and having the necessary post-game press conference I decided to come back for a real match of soccer. Fortunately Flamengo and Botafogo, two local clubs, had to match in campionato cariaoca only a few days in the future.
Loading map...