You cannot omit visiting the Empire State Building when being at New York, United States. I did so on my birthday and enjoyed the views on Manhattan lit by the morning sun. The 381 meters high building was for many years the highest building in New York – now the title has gone to the One World Trade Center.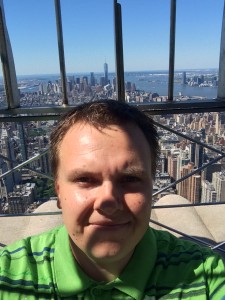 The skyscraper has been built between 1930 and 1931 in very short time. Today different businesses are situated at the building. After entering you have to use an escalator, queue up and go by two elevators to the viewing platform that is protected by a grid – but you still can make some good pictures.
The top of the building is in the evenings colored by light to celebrate different events and organizations (you can propose some colours online). As I was here during the soccer world championship it often displayed the national colours of participating teams (including the German).
You can get here using the subway to Herald Square. Please be prepared for long waiting times if you arrive on weekends. It's best to use the ticket included in New York Pass to visit the site.
350 5th Avenue
New York, NY 10118
United States
Loading map...