Maybe it is only a long-stretched park in the city quarter Oberzwehren of Kassel, Germany – but it is a nice place to relax and it has a special character. The Dorothea-Viehmann-Park is named after the woman living at Knallhütte (today mostly known for a local brewery) close to one of the major roads leading into Kassel. She retrieved fairytales from people of various countries and collected them – later she became the most important source for the Brothers Grimm.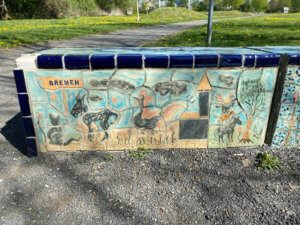 The park reflects this with many decorations from the very well-known fairytales. But there are also other items like statues or a giant golden boulder that can trigger your fantasy. Of course, there are additionally some playground elements, football goals and places to sit down. By the way: there is also a nice ten kilometers long hiking path from Knallhütte to the Grimmwelt museum marked clearly as the Dorothea-Viehmann-Weg. Signs along the way tell you more about her life.
Dorothea-Viehmann-Park
Oberzwehren, Kassel
Germany
Loading map...