It is a house of prayer you can't miss when visiting the بيروت, Lebanon. The Mohammad Al-Amin Mosque is a Sunni mosque located next to the city centre and the Martyrs' square. It is a rather new mosque; its foundation stone with laid in 2003 by prime minister Rafik Hariri and it was opened in 2008 by one of his sons. It is well visible because of its four minarets and the 42 meters high cupola coloured in blue.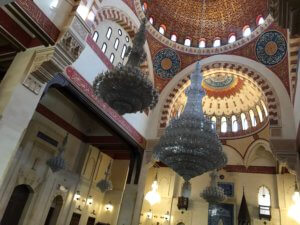 The mosque shows elements of Osman and Mamluk styles. It often reminds people of the Hagia Sophia and the Blue Mosque in Istanbul, Turkey. It is worth to enter the building to see the richness inside – the clothing rules are explained at the door and additional cloth for man with shorts or for women to cover their hair are provided. You can take your shoes to racks inside the mosque or store them downstairs where the traditional baths are located.
Mohammad Al-Amin Mosque
Martyrs' square
بيروت / Beirut
Lebanon
Loading map...