The name Prizren still triggers memories of the Kosovo war in my head. If you get close to it you immediatly see its beauty: with the high mountains in the background carrying the Kalaja fortress that protected the city located at an important trade route from Albania to the Kosovo Polje. In the center there is the fantastic mosque Xhamia e Sinan Pashës located at the river Lumbardhi. An ancient bridge made of rock – the Ura e Gurit – spans the river and minded my much of Sarajevo.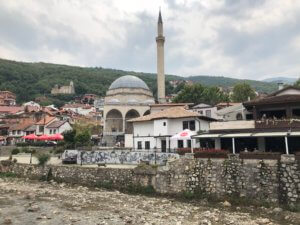 In addition to climb up to the fortress (the chair lift has still not been built) you can visit different religious buildings like the Bogorodica Ljeviška or the Kisha e Shën Shpëtimtarit. The city has a nice Turkish bath and the Albanian League of Prizren. Or you decide to set just next to the river and have a good cup of coffee. As I had sprained my ankle some hours ago I decided to take a ride in a trackless tourist train – but it didn't show me any highlights. If you get to Prizren by car you can use one of the tiny car parks along the river. I had to hand over my car keys to get it parked by an employee. That felt a bit odd but I wouldn't have wanted to park it myself in the narrow car park. After visiting the city you should take the chance to pass the Malet e Sharrit national park.
Prizren / Prizreni / Призрен
Kosovo
Loading map...