Driving a car in Kosovo is for sure possible – but I wouldn't take my own car there. The road conditions are very good concerning motorways and major roads, but other roads are very bad. Outside of cities you might find yourself very soon on unpaved roads with a lot of water-filled holes and even in the outer areas of cities this can happen faster then you might think. But you will find a lot of car rental companies at the airport (including the big international companies).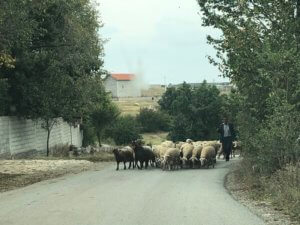 The biggest challenge is navigation because of the low quality of available data. Google Maps just tells you that navigation isn't available in your region, the navigation system of my rental car didn't know the country Kosovo and when selecting Serbia I could select the cities in Kosovo but no streets. I was prepared to navigate with paper-based maps like in the good old days but technology gave me a slightly easier option: Google Maps doesn't navigate but it is able to calculate and display routes. As the Kia rental car had Apple CarPlay integration I could at least see an overview map on the display inside the car and my current position. That made life a little bit easier.
Navigating in Prishtinë was at first a good quest as around the city center they have larger roads with four lanes, seperated in the middle and no chance to cross to the other side. Once you've accepted to drive in the wrong direction and turn at a roundabout you're fine.
You need to have the car lights on all day.
Speed limits are 50 km/h in cities, 80 km/h outside cities, 110 km/h on expressways and 130 km/h on motorways. Learning these by hear is quite useless – you're not able to distinguish between an expressway and a normal road outside cities and there are so many speed signs that the general rules seem obsolete. Often it is 40 km/h in cities and 120 km/h on motorways. Just observe the signs.
You will pass endless numbers of roundabouts, often with three lanes. Just remember: the right of way is with the cars which are inside the roundabout. The rest is pure chaos with everybody going in nearly every possible direction. It is hard to believe that I survived this without an accident.
When you're outside cities have a look for dogs, sheep, goats and cows. If it is not a lonely dog walking on the street it might be a herd of sheep blocking the road around the next corner.
There is currently no road toll for motorways – but the introduction is planned and prepared. Surprisingly there are already signs for road toll houses and motorway rest areas – but no houses have been built so far.
In this country filling station attendants are still the standard. You can just open the window and the tank cover. The person will then ask whether you need benzinë or diesel and how much you want. You can then hand over money and he (I didn't see any females doing that job) will walk to the cashdesk or you can do it on your own (and fetch some drinks).
Parking close to city centers is no problem as it is a business model. Every space available is used and you just need to look out for a white P on blue ground. Sometimes you need to hand over your car keys to somebody just standing (without a uniform or name badge) next to the street. That feels a bit strange.
Crossing the borders to other countries might be an interesting option in a country that is so small. Remember: car rental companies restrict in which countries you are allowed to use the car. I was only allowed to go to Albania, Montenegro and North Macedonia – but not to Serbia. But that doesn't matter as they wouldn't have let me pass: you can only go to Serbia with a valid immigration stop in your passport. I had a Kosovo immigration stamp which is not accepted by Serbia.
Drive carefully!
Kosovo
Loading map...