The restaurant 'Pizza Mia Da Carmelo' at Hann. Münden, Germany can be found near the beginning of the pedestrian zone in the Lange Straße – on the side with the Rotunde. It is inside a building that has seen continuously changing usages during the last years. It was the Turkish restaurant Lokanta and afterwards the local Subway sandwich restaurant. Now a friendly guy with Italian roots sells pizza there.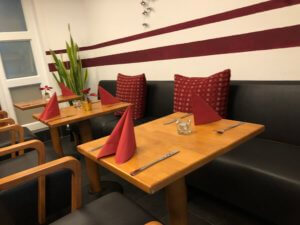 The history of the building is a drawback: the restaurant has not the style of a restaurant, rather that of an eatery. But I like the reduced set of pre-defined pizze and the opportunity to select all topics on your own. The food tastes great and Italian beer is also offered. What does one need more? Hopefully more customers find their way there to keep this restaurant running.
Pizza Mia da Carmelo
Lange Str. 91
34346 Hann. Münden
Germany
https://m.facebook.com/Pizza-Mia-Da-Carmelo-1813343812295234/
Loading map...