In medieval times it was important to know very fast what's happening around your city. Therefore Göttingen hat a set of watchtowers ('Warten') and the Diemardener Warte is one of the few that are preserved. You can reach it when leaving Göttingen to the south in the direction of Gleichen. It was built in the year 1409 and you can enjoy views on Göttingen, Klein Lengden and Diemarden from there.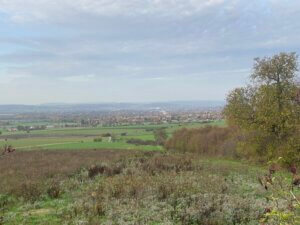 Unfortunately they tower is closed and you cannot enter. But its still worth to climb up on the hill and make a roundtrip via Diemarden through the wonderful Gartetal.
The Diemardener Warte was part of the so-called Landwehrsystem of Göttingen. Other places to visit are the Roringer Warte, the Rieswarte near Nikolausberg and the churchtower of Reckershausen. The other 14 towers are unfortunately gone (Backenbergswarte, Dicke Warte, Dreckwarte, Hainbergwarte, Hainholzwarte, Kerstlingröder Warte, Kritenwarte, Lohbergwarte, Olenhusener Warte, Rosdorfer Warte, Roykebergwarte, Sestellenwarte, Warte an der Ausschnippe, Weizenbergwarte, and Ziegenhellenwarte).

Diemardener Warte
Diemarden
Gleichen
Göttingen
Loading map...

Verlinken