The Petrikirche at Lübeck, Germany, is a nice church dating back to the year 1170 CE and is made of the typical red bricks used in this area of the country. It was destroyed during World War II and served for many years as a lapidarium – a place where stones from other religious buildings of the city were collected. The church was rebuilt only in 1987 and as all of the interior is lost it is normally not used for religious services.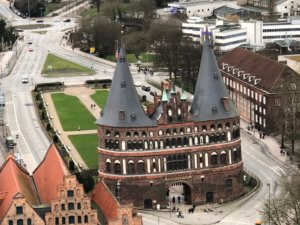 St. Petri has a beautifully shaped tower which is 108 meters high and which is also what this church is known for: after climbing 54 steps you can take an elevator to get up to a viewing platform at a height of 50 meters. Then you are standing inside the tower and from there you have really good views on the city, St. Marien, the Dom, the Holstentor and the MuK. Getting up costs you 4 Euros – well-invested money.
Petrikirche / St. Petri
Petrikirchhof
23552 Lübeck
Germany
http://www.st-petri-luebeck.de
Loading map...