To be honest, the city of Mönchengladbach, Germany, isn't such a beauty. If you want to visit a wonderful building you'll have to travel a bit and search the castle Schloß Rheydt in the outskirts of the city. No worries: buses from the train stations (Hauptbahnhof, Rheydt) bring you there easily. It is a water castle created in Renaissance style between 1558 and 1591. The manor house is very beautiful and it is especially nice to get here in the evening hours when it is enlighted in warm colours. In 1940 Joseph Goebbels wanted to use it as a guest house, today you'll find a good restaurant and an interesting museum here.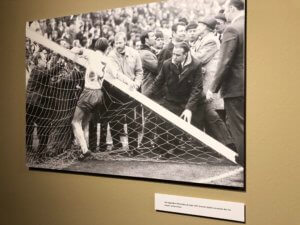 In 1978 the museum became the European museum of the year and it shows details about the history of the city, the production of textiles on the area and a collection of ancient treasures. I was happy to see an exhibition about the former soccer stadium (the Bökelberg) here, as the new stadium doesn't have very much history and flair. The exhibition told a lot of stories from the times when Borussia Mönchengladbach played at the Bökelberg (like about the famous match against Werder Bremen when the goalpost broke) and also about the end of the stadium where it refused to be destroyed. Take the time and get by bus to this wonderful place – it is worth the effort.
Museum Schloß Rheydt
Schlossstraße 508
41238 Mönchengladbach
Germany
Loading map...