The Ickelsbach is just a tiny flow beginning at Lutterberg, passing Landwehrhagen (both belonging to Staufenberg) and ending at the river Fulda close to Wahnhausen, Fuldatal (which is located on the other side of the river). Unfortunately you cannot walk near the riverbed but on paths close to the river. It is a nice walk from Landwehrhagen down to river Fulda where you can decide to continue via the watergate to Wahnhausen or along the Fulda to Speele.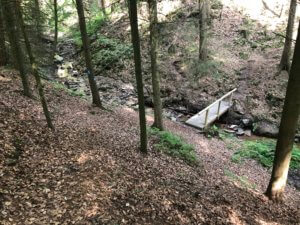 On the way you can pass over the Ickelsbach at least once, see the border between Landwehrhagen and Speele marked with ancient stones, have a stop at the Reetz-Gehege (a small rest area under a big tree) and watch ICE high-speed trains at the portals of the Mühlenkopftunnel. Hikers on the Kassel-Steig will pass over the Ickelsbach on the Ickelsbach bridge only view meters below Landwehrhagen and enjoy this tiny valley where the river has digged deep into the mountain.
Ickelsbach
Landwehrhagen / Lutterberg
Staufenberg, Germany
Loading map...