The DORMERO Hotel at Stuttgart, Germany is a giant hotel with two buildings at the SI-Centrum a little bit outside of the city. It is a business hotel with many fair visitors but also used by people that visit one of the musicals performed at the SI-Centrum. The style is special: when you enter the room it is lighted in red and you'll ask yourself what kind of hotel you've booked. But therefore you get free Sky TV and free drinks in the minibar (and you can switch your room to green, yellow, blue or white, if you want).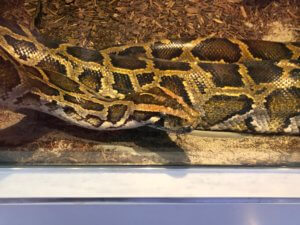 Every hotel of this chain has an animal in its lobby. At Stuttgart it is Lillyfee – a python which was formerly living at an animal shelter. Around the hotel there is not much of interest, but at the SI-Centrum you'll find bars and restaurants, a cinema, the musical theatre and a nice spa – the SchwabenQuellen.
Size also brings disadvantages: there are real rushhours when you can stand for 15 minutes waiting for an elevator and when the breakfast restaurant is really overcrowded. Beware – if you leave your coffee unattended for just one minute to get some food it's gone. The staff is pretty fast.
Going from the main station to the hotel lasts around 30 minutes by public transport. Take U12 (direction 'Dürrlewang') to Möhringen Bahnhof and switch there to U3 in the direction of Plieningen until you reach Salzäcker. Then you're directly at the reverse side of the hotel and you can take the rear entrance.
DORMERO Hotel
Plieninger Str. 100
70567 Stuttgart
Germany
Loading map...