If you want to escape from the city of Tirana, Albania to see the mountains and watch the city from above there is one very good option: to go to the house mountain of the city, the Dajti. It is 1613 meters high and located in the East of the city. On top you'll find a restaurant and a rotating bar as well as a viewing platform. The mountain offers good opportunities for hiking, climbing, mountain biking and paragliding.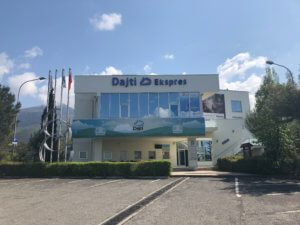 Fortunately you don't have to walk up the hill – since 2005 there is a cable car bringing you up, the Dajti Express. There are several options how to get to the lower station. If you are already experienced with the bus network you can take bus 1 from Center to Porcelan. The final stop is Teleferiku and thats where you want to go. The price of 40 leke is very cheap. If you want to have it more comfortable you can take a taxi, with some of them a price of 1000 leke (one-way) is negotiated, discuss before the ride. There is also a mini-shuttle going between the city center and the Dajti Express, but currently they don't have an official bus stop location and its hard to find.
If you're travelling in off-season make sure the Dajti Express is operating. The opening times I found on Google Maps were wrong and the cable car wasn't operating. If you get here you can combine this trip with a visit to the Bunk'art bunker exhibition that is directly underneath the Dajti Express lower station. To reach it you'll have to walk down the hill, turn left and pass through a tunnel.
Dajti Ekspres
Tirana
Albania

Loading map...