My currently favorite pub at London, United Kingdom is a special one: it is floating on river Thames between Lambeth and Vauxhall bridge. Tamesis Dock was once a Dutch barge from the 1930s but is now permanently moored and used as a relaxed bar on the water.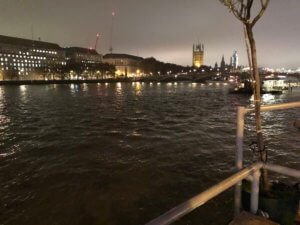 When you get onboard you'll find the bar and the cosy pub (often with live music) inside. But you can also take your drink with you outside as it has seats on top, in the front and in the rear. From there you'll have brilliant views on the parliament building, Westminister bridge and London Eye. Even as the ship is near those sights you'll still have to walk some minutes to reach it – and therefore it is often not that overcrowded. Best get by underground to Vauxhall and walk along the river.
Tamesis Dock
Albert Embankment, Lambeth
London SE1 7TP
England, United Kingdom
Loading map...