If you love US-American breakfast or want to have breakfast all around the clock then The Breakfast Club in London, United Kingdom might be the right place for you. It all started with a tiny location at Soho – now it is a chain with many restaurants throughout London.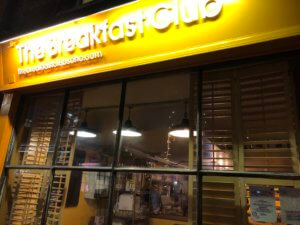 They offer delicious pancakes but also burgers. It is named after the film from 1999 and they play music from that time – which is absolutely my style. The wall at the Soho branch – decorated by visitors with notes, quotes and bank notes – is quite impressive.
The Breakfast Club Soho
33 D'Arblay Street
Soho, London W1F 8EU
England, United Kingdom
https://thebreakfastclubcafes.com
Loading map...