It looks like a flying saucer exploring Bratislava: the UFO (unidentified flying object). In fact it is part of the main bridge (Most SNP, bridge of the Slovakian national uprising) crossing river Danube close to the castle of Bratislava.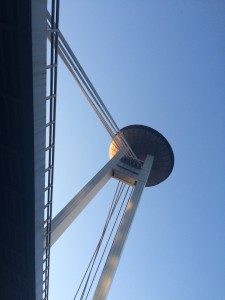 The bridge has been built from 1967 to 1972 and on the pillars you'll find in 80 meters height a restaurant, a bar and and a viewing terrace. Nice views on Bratislava, the castle, St. Martin and the surroundings of the town guaranteed! The UFO can be reached via an elevator in one of the pillars.
To get up there from the city side you'll have to walk along the bridge under the driving surface. At the river shore you have to go one floor down and there you can find the entrance. Only 200 persons can get up there at the same time and therefore it is good that not too many people walk over.
This slideshow requires JavaScript.
Most SNP 1
851 01 Bratislava
Slovakia
http://www.redmonkeygroup.com
Loading map...