When the people of São Paulo need a break from their city they often travel to one place: Ilhabela. It is an island located only some minutes (approximately 7 km) by ferry from São Sebastião. How many people go there in summertime can be easily seen when you follow the waiting line for the ferry boat: It winds through São Sebastião in an enormous length.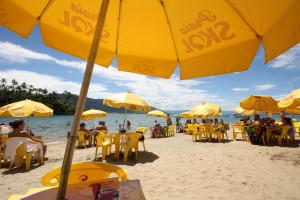 The island is the biggest of Brazil and of volcanic origin. You can use the ferry on foot but most people take their cars over to the island. When you reach the other side you have to decide which direction you take. If you go left (north) you'll find a nice town with a beach promenade and nice restaurants (Ilhabela, Vila). If you're looking for a beach, you better turn right (south).
The first beach seems to be one of the best: it is located directly opposite to a very small island. A restaurant provides chairs and umbrellas directly at the beach and you can watch people doing sports on the water. Going to the sea side of the island is only possible by jeep – but if you want to be active you can hike into the mountains to see some nice waterfalls.
Loading map...