The Pousada Corsario in Paraty is like a gated community of small houses next to the river and not far away from the historic city center. The houses are simpel but I really enjoyed lying in my hammock in front of the room. At the time I've been in Paraty, there where not many guests and it was a quiet and pleasant stay.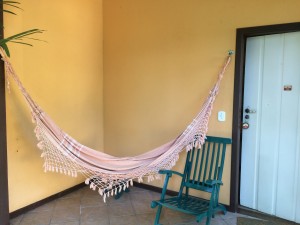 If you leave the pousada and turn to the left you have to walk about five minutes to get to the Praça da Matriz, the harbour and all interesting sights in Paraty. The main street of the "new" Paraty, the Avenida Roberto Silveira is also only two blocks away – if you want more hustle and bustle.
Rua João do Prado, 26
Chácara, Paraty, 23970
Brazil
http://www.pousadacorsario.com.br
Loading map...