What to do if times change, political systems drown and the streets are still filled with statues that don't seem to fit anymore? In some countries these stone and steel giants have been destroyed, in Berlin the head of Lenin has been buried underground in a wood. In Hungary they decided to show these icons – in a place called Memento Park, close to Budapest.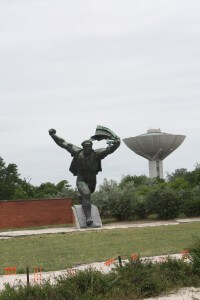 The first thing you see after arriving is a Trabant – a people's car from the former GDR. If you compare it with the standard cars of our time it is quite unimaginable that this has been the standard in a whole country. What you might overlook at first is the main exhibit – because of the huge Stalin memorial there are only the boots left. It was situated in the Városliget park in Budapest and has been torn down by the people in 1956.
The park consists of many working class monuments and soviet soldier statues collected from all of Hungary. Memento Park is located in the south-west of Budapest and is best reached by car. If you are travelling with public transport, there is a bus going on a good schedule to this place – but it takes about 40 minutes to get there.
Balatoni út – Szabadkai utca sarok
1223 Budapest
Hungary
Loading map...