The cathedral of Hildesheim is a Roman-Catholic church officially named the Dom Mariä Himmelfahrt. Together with the church St. Michaelis it is since 1985 a UNESCO world heritage site and a good example of religious art during the Holy Roman Empire. The composition of buildings itself is already worth a visit, but the site also includes a museum exhibiting the enormous treasures collected over time. Additionally the icon of the city, the so-called 1,000 years old rosebush is also growing in the courtyard of the cathedral – therefore nearly every visitor of the city takes a look inside this treasure box.
The cathedral developed continuously over time. The first building was a chapel dedicated to Mary, attached to this the iconic 1,000 years old rosebush is growing. It was built from the year 815 CE on, then another small church was added. And in 872 CE the cathedral was built next to these two houses of prayer and altered many times later. This all came to a sudden end in 1945 when during air raids the cathedral was bombed and mostly destroyed. Most of what you see today has been rebuilt between 1950 and 1960.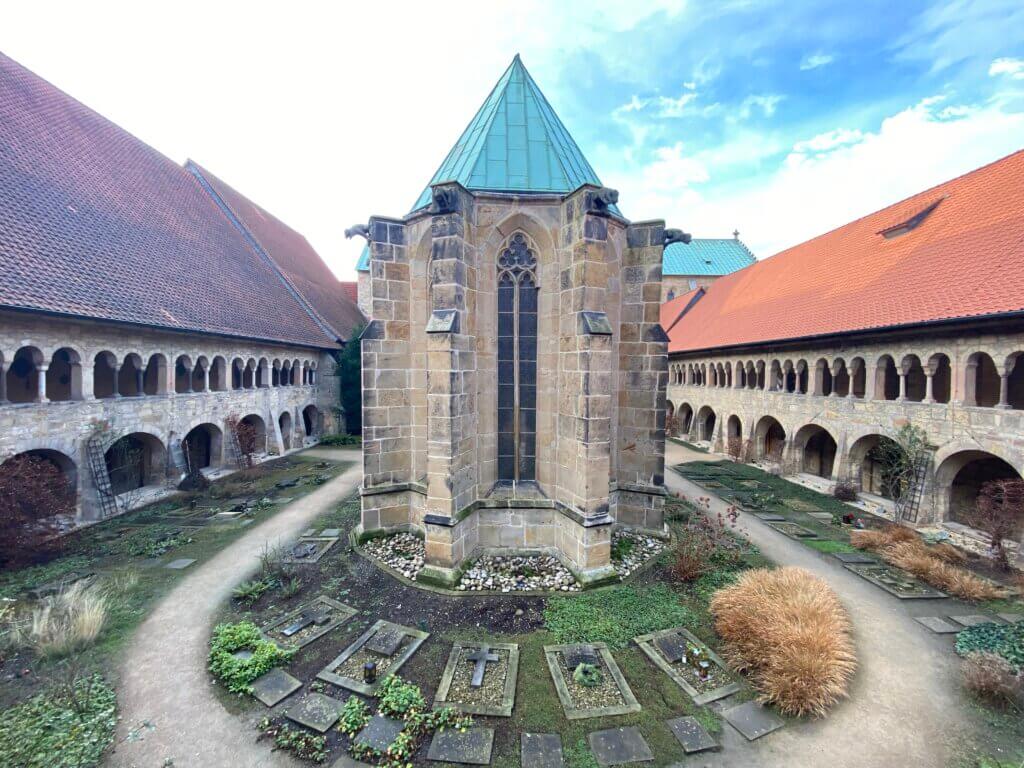 Highlights within the church are the Bernward gate (from the year 1015) and Bernward column (or Christ column, dating back to 1020 CE), both created during the times of bishop Bernward of Hildesheim. You can also climb down to the bishops crypt which survived the centuries and inside the church you'll see the Thietmarleuchter, a large round chandelier which is normally mostly found in mosques. Underneath the church you'll also find the Godehardschrein, a golden chest containing the remains of Gotthard of Hildesheim (the famous St. Gotthard Pass in Switzerland is named after him).
What I really enjoyed was the inner courtyard containing the rosebush and an ancient graveyard, it has a very special atmosphere and is surrounded by a two-story cloister. In this part of the cathedral also the Dommuseum is located. It is a museum exhibiting the treasures collected by the church. What sounds rather boring was absolutely fascinating and the Domschatz contains absolutely beautiful books, containers for relics (like the one containing remains of Mary), crucifixes, lighters and archeological gems. You need to definitely give it a try!
Dom Mariä Himmelfahrt & Dommuseum
Domhof
Hildesheim
Germany
Loading map...