In the south of Göttingen, in a quite prominent location at the intersection of the Geismar Landstraße and the Friedländer Weg you can find the stub of a memorial that is pretty much unknown to the citizens of Göttingen. It is the Süd-West-Afrika-Denkmal, commemorating the fallen of the 82nd regiment (once located at the city) during the uprising of the Herero and Nama against the colonial forces in former Deutsch-Südwestafrika, todays Namibia.
'Für Kaiser und Reich starben in Südwest-Afrika 1904-1910 vom 2. Kurhess. Inf. Regt. Nr.2. Zur bleibenden Erinnerung gewidmet in Dankbarkeit und Treue von den Offizieren, Unteroffizieren und Mannschaften des 2. Kurhessischen Inf.-Regt. 82. Der Bronzeadler und die Gedenkplatte sind am 07.04.1978 von Unbekannten gestohlen worden.'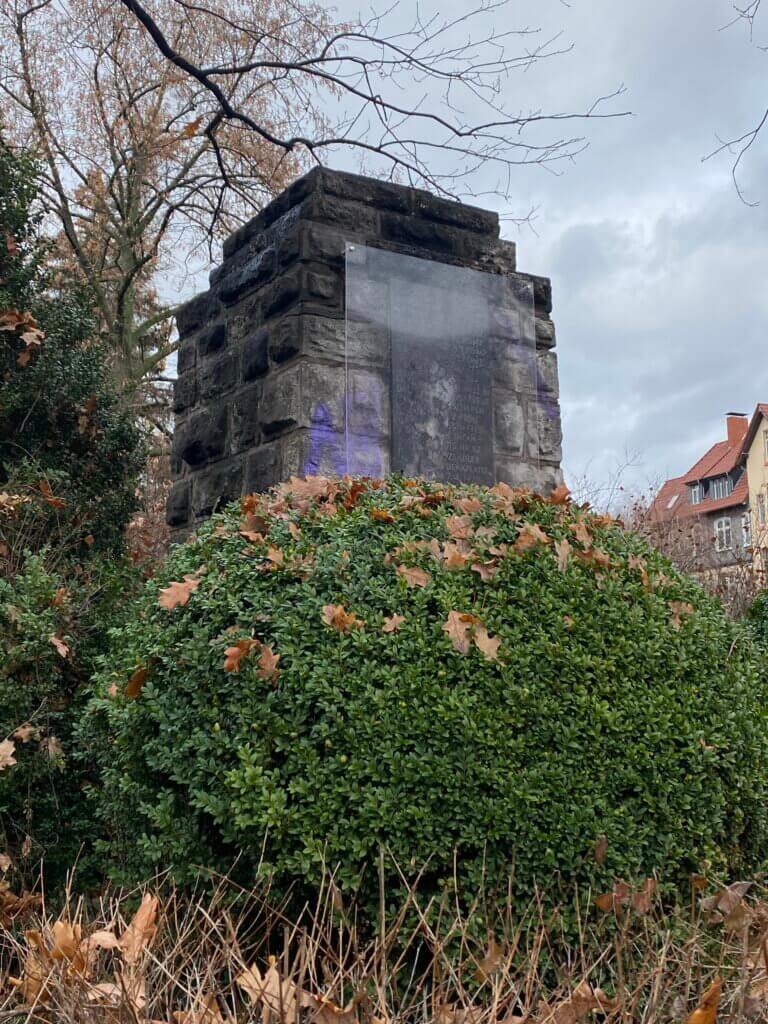 Between 1884 and 1915 Deutsch-Südwestafrika was a German colony. It was freed in 1915 by the Union of South Africa and according to the Treaty of Versailles it became a region controlled by South Africa under a mandate of the League of Nations until 1990. In 1904 the local Herero and Nama people fought against the colonial forces and more than 70,000 of them lost their life; if not in combat, then in concentration camps. Something which we today see clearly as a genocide.
In 1910 the soldiers of Göttingen just wanted to commemorate their fallen comrades. The memorial was by that time showing a large bronze eagle; the eagle and the commemorative plague were stolen in 1978. A communist organization explained that it had cut the eagle into pieces and tried to melt it. But in 1999 the head of the eagle appeared again, in Windhoek, Namibia, and is now exhibited there.
The memorial in Göttingen received an additional sign to explain its history, but it has been vandalized multiple times over the years. There are voices that call for the full extinction of the memorial, but there isn't much left that could be removed. And if you remove the stub of the memorial, you loose a place that can remember the brutal history of German colonization and can initiate debates on how to remember German history and associated memorials.
The only sensible option in my eyes would be to create a memorial for the Herero and Nama in exactly this position. Maybe someone could pick this idea up (again)?
Süd-West-Afrika-Denk­mal
Friedländer Weg / Geismar Landstraße
Göttingen
Germany
Loading map...