Do you remember The Muppet Show and its Swedish chef? In the German version, he is from Denmark and singing the song 'Smørrebrød, Smørrebrød røm, pøm, pøm, pøm'. Smørrebrød is just bread with butter and if you want to taste this Danish speciality – most often with fish – then you have plenty of options in the Danish capital city.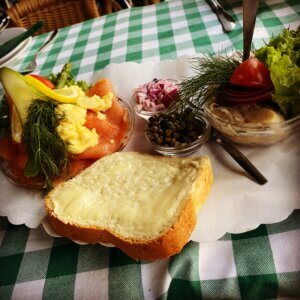 One of the best places in my opinion is the Kanal-Caféen close to the Nationalmuseet and not far away from Tivoli. It is a kind of ship on the canal and you can sit down well-protected from wind, rain or sun. The menu is short but contains very delicious specialities from the sea – including fantastic sour herring … røm, pøm, pøm, pøm.
Kanal-Caféen
Frederiksholms Kanal 18
1220 København
Denmark
https://www.kanalcafeen.dk
Loading map...