When you're hiking on the Warteberg mountain in the east of Göttingen, Germany, you can come across an old earthquake observatory. It is the so-called Wiechert'sche Erdbebenwarte named after the former director Emil Wiechert. The university gave up the building in 2005 but now a private association cares about the legacy of the scientist, including different seismographs that still work. A highlight of this place is a four tons weighing giant: the Mintrop-Kugel.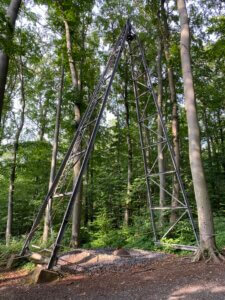 It is a ball made of steel which has been donated by steel manufacturer Krupp. Geophysicist Ludger Mintrop used it to test seismographs by letting it fall down 14 meters. Later he used the technology to find oil and coal – he earned a lot of money with his research. If you want to experience an earthquake: every first Sunday the Mintrop-Kugel is used; it is lifted up 14 meters and then falls down. The area is open and accessible all the time – you can have a look at the construction even if it isn't a Sunday.
Mintrop-Kugel
Wiechert'sche Erdbebenwarte
Göttingen
Germany
Loading map...