Wembley Stadium is the second-largest soccer stadium in Europe, home to the English national team and visible from far away because of its 133 meters high arc. It can host up to 90000 spectators and was opened in 2007 on the grounds of the former stadium (with its iconic twin towers) built in 1923. For soccer fans this is holy ground – not only because of the final of the world championship held here in 1966.
Jules Rimet still gleaming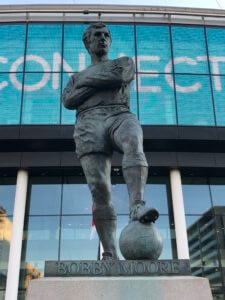 'So many jokes, so many sneers
But all those oh-so-nears
Wear you down
Through the years
But I still see that tackle by Moore
And when Lineker scored,
Bobby belting the ball
And Nobby dancing'

– Three Lions, The Lightning Seeds (David Baddiel, Frank Skinner)
This final was won by England against Germany – with the most famous and most discussed goal ever. If you go to the soccer museum in Dortmund, Germany you can replay and analyse it from all angles. In minute 101 Geoff Hurst 'scored' the crucial 3:2 for England – but today we know that the ball never fully passed the line. It was the only time England won the world championship so far. Captain of the team was Bobby Moore and you can still today see a statue of him in front of the stadium.
Wembley stadium
London HA9 0WS
England
United Kingdom
Loading map...