I don't know how many times I passed the entrance of the Stadtmuseum of Kassel without entering it. It is located within the old Karlshospiz at the Ständeplatz but has the entrance in the rear. Maybe it were the windows closed with bricks that kept me from entering the building with the nice portal. At least I didn't expect too many interesting things inside.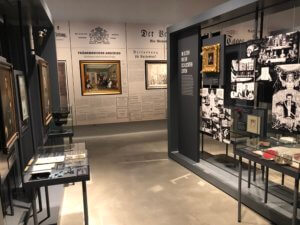 Maybe it was also my fear of local museums about the history of cities. Nearly every city wants to have one, but most times they are pretty old-fashioned or there are no interesting stories to tell. With the Stadtmuseum of Kassel it is totally different. The exhibition is designed really well and has a good mix of media. And there is also a space for changing exhibitions.
Also the city of Kassel has an absolutely interesting history to tell – to visitors and inhabitants. The city center was destroyed in the night of October 22nd, 1943 by British Royal Airforce to very large extent (97%) and today many people consider it rather ugly. Within the Stadtmuseum you have the chance to see the city as it was before World War II – with beautiful half-timbered houses and ancient stone bridges over river Fulda. And you can see the former fortifications of the city and get a completely new picture of the city structures.
Stadtmuseum Kassel
Ständeplatz 16
34117 Kassel
Germany
http://www.stadtmuseum-kassel.info
Loading map...