Every two years the local modelling association, Modellbauclub Münden, organizes a modelling and miniature railway exhibition at the Weserberglandhalle belonging to the Hotel Freizeit Auefeld at Gimte, belonging to Hann. Münden, Germany. I must admit that I was unsure whether this is an interesting event – but it was fun!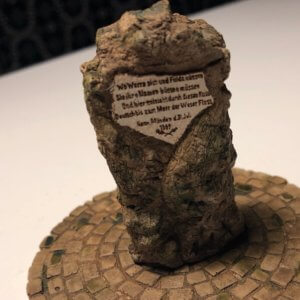 Different club members and other organizations of the region show the results of their hobby. You can see different landscapes with miniature railways of all sizes (N, H0, LGB, …) and ages. There is also a Carrera racing track you can try yourself, a vast modell of a fun fair (including fully functional rollercoasters) and radio-controlled trucks, excavators and firefighter trucks doing their jobs.
There is a lot to see and different things to try out. It was also possible to build a miniature nativity set or to make and paint a miniature version of the Weserstein. What really impressed me was how passionate everyone was there – and how willing to tell a lot about their individual projects. The entrance fee is acceptable: adults pay five Euros, children 3.50 Euros. They also offer drinks and food for a reasonable price. It's sad that this event is only every second year…
Modellbau- & Eisenbahnausstellung
Modellbauclub Münden e. V.
http://www.mbc-münden.de
Weserberglandhalle
Hotel Freizeit Auefeld
Hallenbadstraße 33
34346 Hann. Münden
Germany
Loading map...