If you go to the southeastern end of Sardegna you'll reach the Capo Carbonara located near Villasimius, Italy. It is a nice area obviously mostly used for tourism. There you will find several beautiful beaches that invite you to some hours at the shore.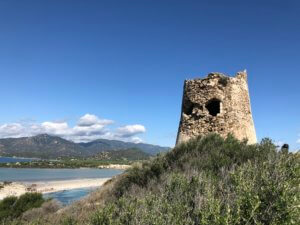 We decided for the Spiagga di Porto Giunco because it looked absolutely nice – located between the light blue water of the sea and a laguna. In addition you can climb up to the old Torre di Porto Giunco on a hill next to the beach and have good views on the area. The beach is absolutely flat and perfectly suitable also for smaller children.
At the beach you'll find all necessary facilities and some bars and a surf school. What was a bit annoying are the many people trying to sell you stuff. Parking was easily possible pretty near to the beach – you just need to find the right road to access the parking area.
Capo Carbonara
Spiagga di Porto Giunco
Villasimius
Sardegna, Italy
Loading map...