The south of Sardegna is closer to Africa than to Roma, Italy and therefore you have a special flora and fauna there. You can see giant African snails, many lizards, big grasshoppers and dragonflies. In higher areas you will see a lot of macchia and everywhere some special trees unknown from home.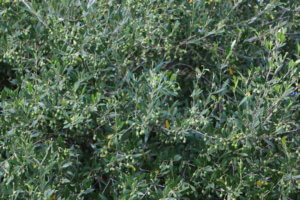 Visible all over Southern Europe the olive tree – producing nice olives and the base for good olive oil – was always a special tree for me. It looks great all you and is a symbol for the south. 'A small house and an olive tree, to keep and feed my family, that's all I need' sings Yusuf Islam (formerly known as Cat Stevens).
Cork oak
Quercus suber
The cork oak is a special tree as you can peel it and produce cork – the one used to close wine bottles. You can best see this at the Giara di Gesturi where they peel and seal the trees to protect them from the wild horses living there. I never saw these trees before.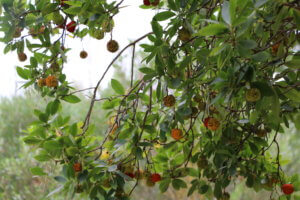 A special beauty is the Arbutus unedo with its colorful fruits changing via yellow to red – that is why the tree is also called strawberry tree. The fruits in fact have nothing in common with strawberries but it is always nice to see one of these colored trees.
Holm oak
Quercus ilex
The holm oak drew our attention because of its huge acorn: in bright green while growing at the tree and brown when fallen down. The bark breaks into pieces when the tree gets older and then shows different colors.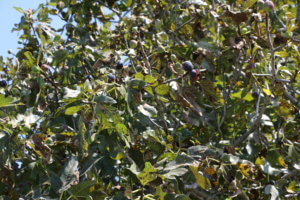 One of the fruit trees of the Mediterranean that produces sweet fruits and looks a bit shabby when they are not harvested. Figs can be eaten directly but are also often used for salads. For the people in India it is kind of a holy tree.
Pomegranate
Punica granatum
The pomegranate tree is also something that grows in this climate and attracts me because of the beauty and special shape of its fruits. They are used in juices or salads but be careful when opening the fruit to get the seeds: they disperse a lot of red color.
This slideshow requires JavaScript.
Additionally there are many interesting bushes like oleander (Nerium oleander), myrtle (myrtus communis), juniper (juniperus communis) or lentisk (Pistacia lentiscus).
Sardegna
Italy
Loading map...